Volcanic ash triggers evacuation in Philippines, 'hazardous eruptions' feared (PHOTOS)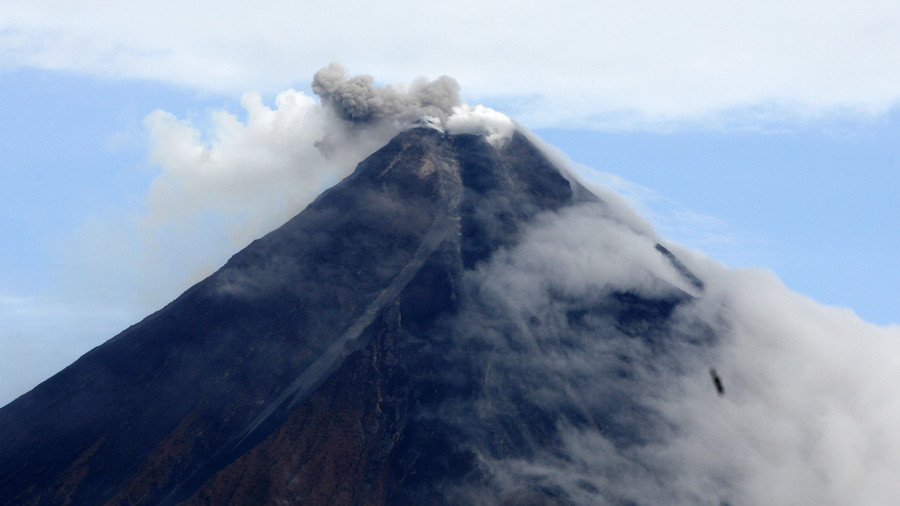 "The public is strongly advised to be vigilant and desist from entering the six kilometer (3.7 mile) radius Permanent Danger Zone to minimize risks from sudden explosions, rockfall and landslides," the Philippine Institute of Volcanology and Seismology (Phivolcs) announced on Sunday.
Phreatic eruption at Mayon Volcano at 8:49am, ashfall should be expected on the southwest and west slopes. pic.twitter.com/O7LmrRYV87

— PHIVOLCS-DOST (@phivolcs_dost) January 14, 2018
The volcano, located in Albay province of central Philippines, first spewed ash on Saturday afternoon and again on Sunday morning. Since the eruptions, a "faint crater glow" has been observed, while the "rockfall events have been intermittently recorded and are continuing," the agency added.
MAYON VOLCANO BULLETIN
14 January 2018
12:30 AM

RAISING OF ALERT LEVEL FROM ALERT LEVEL 1 TO ALERT LEVEL 2 pic.twitter.com/UFS68kDZMI

— PHIVOLCS-DOST (@phivolcs_dost) January 13, 2018
The threat level was raised to level 2, with Phivolcs warning the volcanic activity is "probably of magmatic origin, which could lead to more phreatic eruptions or eventually to hazardous magmatic eruptions."
IN PHOTOS: Ash fall from the Phreatic eruption of Mayon Volcano in Albay province. | Photo courtesy: Joey Salceda pic.twitter.com/QigL5xSKhf

— The Philippine Star (@PhilippineStar) January 13, 2018
Residents of at least two villages within the six kilometer radius around the volcano have already been evacuated, but some people still remain in the danger zone, hoping the threat is not yet "critical."
Mayon Volcano Eruption pic.twitter.com/NBFaPG6SLF

— Filipino Community (@FilipinoComm) January 13, 2018
"We have not reached the critical level," said the head of the Albay Provincial Disaster Risk Reduction and Management Office, Cedric Daep, as cited by Reuters. "Alert level 3 is what we consider critical, 4 is when eruption is imminent, and 5 is eruption in progress."