5.5 magnitude earthquake hits off S. Korea's southeastern coast – state media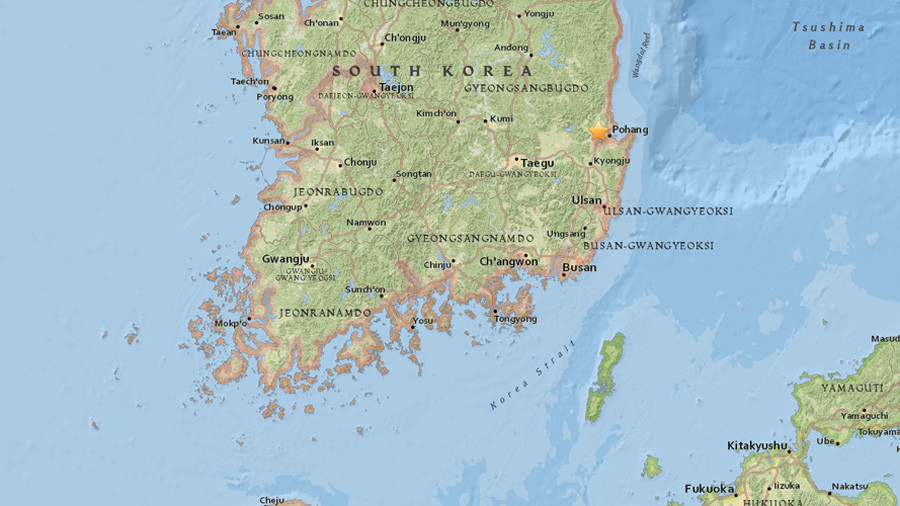 The quakes were felt in the South Korean capital, Seoul, some 270km from Pohang, Yonhap said, citing the Korea Meteorological Administration. The residents of Pohang were told to evacuate and reports emerged about buildings shaking following the tremors. A third aftershock with a 3.6 magnitude was recorded later, the weather agency said.
The initial quake was recorded at a depth of 10km, USGS said. It noted, however, only one earthquake in the area, measuring 5.4 on the Richter scale.
[지진조기경보]

추정규모 : 5.5
발생시각 : 2017-11-15 14:29:31
추정위치 : 경북 포항시 북구 북쪽 6Km 지역
(위도 36.10, 경도 129.37)

경북 포항시 일대 최대예상진도 - Ⅷ pic.twitter.com/qy0V2n6pVk

— 기상청 지진정보서비스 (@KMA_earthquake) November 15, 2017
Pohang is some 35km from the Wolseong Nuclear Power Plant, which has six operational reactors. According to state nuclear operator Korea Hydro & Nuclear Power, neither of nuclear reactors on the southeastern coast was affected by the quakes.