Syrian army, allies, capture last major ISIS held town in Syria - reports Syrian government forces have captured the town of Abu Kamal located in the Euphrates valley on the border with Iraq, according to an RT Arabic correspondent and local TV. The town was one of the last major settlements held by Islamic State terrorists.

A video published on a YouTube account affliated with the pro-government forces shows Syrian Army soldiers and allied forces from various militia groups as well as Hezbollah fighters celebrating their victory in the vicinity of Abu Kamal. The footage shows Hezbollah fighters posing with the group's flag as well as Syrian soldiers and allied militia posing with the national Syrian flag.




The soldiers on the video appear to be wearing Syrian and Iraqi army uniforms. The landscape in the video also appears to be consistent with the terrain around Abu Kamal.


Read more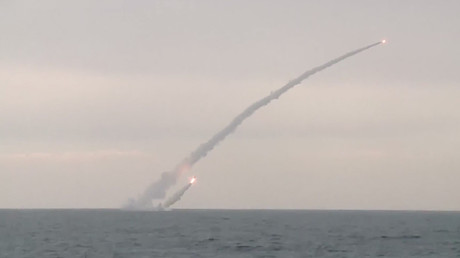 The city of Deir ez-Zor, which endured years of IS blockade, was breached by the Syrian army with the support of Russian airstrikes early in September.
On November 3, the Russian Defense Ministry said IS-controlled areas in Syria had shrunk to less than 5 percent of the country's land area. Earlier, the Russian Defense Minister, Sergey Shoigu, said Islamic State controlled "more than 70 percent of Syrian territory" before Russian Air Forces started its operation in the Middle Eastern country.
The liberation of Abu Kamal marks the ultimate end of the territorial ambitions of Islamic State, Joshua Landis, head of the Middle East Studies Department at the University of Oklahoma, told RT. He added that Islamic State has now lost all the major settlements it controlled while being pinned down by the Syrian and Iraqi armies in the border region between the two countries.
"The two armies met up and liberated this last major town [held by Islamic State]," Landis, adding that "this is the end of ISIS as a 'state'." He also pointed out that the terrorists are now being prevented from freely moving between Syrian and Iraqi territory, making the fight against them much easier.