Russian engineers prepare to lift 2nd colossal Crimea Bridge arch (VIDEOS)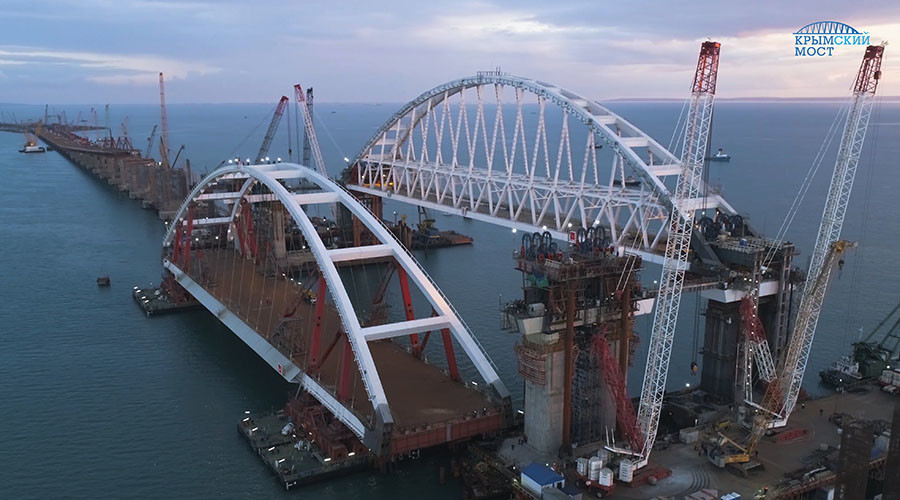 READ MORE: 5,500-ton Crimea bridge motorway arch sails off for complex installation operation (VIDEO)
Russian authorities temporarily restricted maritime movements across the strait prior to the start of the 72-hour installation process that will see the 227-meter segment lifted to be joined to the road portion of the 19-kilometer-long bridge. Engineers will draw on previous experience gained while installing a similar railroad arch in late August.
Once the 45-meter tall arch is raised to a height of 35 meters above water, experts will proceed to fix the structure to the bridge. Around 30 engineers, slingers, welders, surveyors, and quality control specialists will be deployed constantly throughout the entire process while switching shifts.
Twelve heavy duty jacks, each with a capacity of lifting 650 tons, are being used to raise the colossal arch from the delivery barges. Engineers have secured lifting cables and will gradually transfer the weight load onto the jacks to ensure the arch does not snap. The structure will be lifted at an average rate of 5 meters per hour to the required height of 35 meters above water.
READ MORE: Russian navy ship passes under arch of epic Crimea Bridge for 1st time (VIDEO)
Once completed, the 19 kilometers (12 miles) Crimean Bridge will be one of Russia's and Europe's largest. The bridge will have a four-lane highway as well as a two-lane railroad and will be capable of providing access for up to 40,000 vehicles and dozens of trains a day, linking the Kerch Peninsula in Crimea and the Taman Peninsula of mainland Russia over the Kerch Strait. It is scheduled to be opened by late 2018 and become fully operational by 2019.