'Sickening': Rights groups slam WHO for appointing Zimbabwe's Mugabe a goodwill ambassador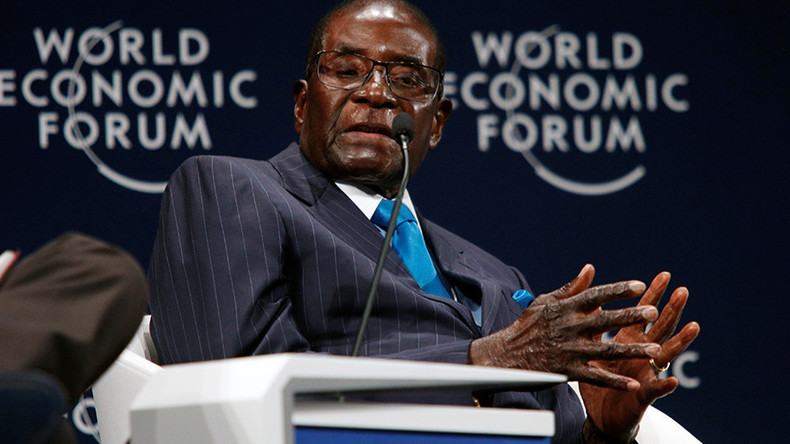 The 93-year-old Zimbabwean leader was given the position, which is bestowed on personalities who highlight "important health issues," at a WHO conference on noncommunicable diseases (NCD) in Montevideo, Uruguay.
READ MORE: Britain 'turned blind eye to massacres in Zimbabwe to protect its interests,' study claims
WHO Director General Dr Tedros Adhanom told the conference that he was honored to have Mugabe, who is regarded as one of the most controversial political leaders of the 21st century, serve as an ambassador.
Dr Tedros also said that Mugabe can "influence his peers" and praised Zimbabwe as a "country that places universal health coverage and health promotion at the center of its policies".
But not everyone is in agreement. International watchdog, UN Watch, described the United Nations health agency's announcement as "sickening".
Sickening: U.N. health agency names tyrant Mugabe 'goodwill ambassador'; rights activists outraged https://t.co/m6D9l9Dp75 via @unwatch

— UN Watch (@UNWatch) October 20, 2017
"The government of Robert Mugabe has brutalized human rights activists, crushed democracy dissidents, and turned the breadbasket of Africa - and its health system - into a basket-case," said UN Watch executive director Hillel Neuer.
.@DrTedros Really? You appointed Robert Mugabe a WHO goodwill ambassador? What aged dictator is next on the list? https://t.co/kULtrqpXIM

— Nicholas Kristof (@NickKristof) October 20, 2017
"The notion that the UN should now spin this country as a great supporter of health is, frankly, sickening," Neuer added.
Knighted by the British monarchy in 1994, Mugabe had the honor revoked in 2008 due to the violent nature of Zimbabwe's Zanu-PF party regime.
Given Mugabe's appalling human rights record, calling him a Goodwill Ambassador for anything embarrasses @WHO and @DrTedroshttps://t.co/fsqDSraWc9

— Iain Levine (@iainlevine) October 20, 2017
.@DrTedros I urge you to cancel your appointment of Mugabe as WHO 'goodwill ambassador'—he ruined Zimbabwe's health. https://t.co/4m6roMY5sU

— Hillel Neuer (@HillelNeuer) October 20, 2017
Mugabe has also been slammed for muzzling the press by threatening journalists reporting on protests with imprisonment.
Some 24 health organisations from around the world, including the World Heart Alliance, Cancer Research UK, and the Healthy Latin America Coalition, issued a statement Friday, saying they were "shocked and deeply concerned" due to Mugabe's "long track record of human rights violations".
READ MORE: 'Go hang on a banana tree': Zimbabwe tells US embassy to buzz off over human rights concerns
"Given these systematic abuses and his approach to NCDs and tobacco control in the past, NCD civil society present in Montevideo believe that President Mugabe's appointment as WHO Goodwill Ambassador for NCDs cannot be justified," the statement read.