Australia & US test-fire multimillion hypersonic missile (VIDEO)
The launch was performed as part of a research project which features the US military and Boeing.

The rocket blasted off through Australian skies on an unspecified date in early July.




The video of the launch was posted by the Faculty of Engineering, Architecture & Information Technology of the University of Queensland, a partner in the HIFiRE (Hypersonic International Flight Research Experimentation Program) program, on July 13.

The experimental flight codenamed HyShot 5 or HiFiRE 4 is a joint effort by researchers from Queensland University, Australia's Defence Science and Technology Group – a unit of Australia's Department of Defence – the US Air Force Research Laboratory (AFRL) and a number of high-profile private companies, including Boeing and BAE Systems.

READ MORE: Report warns Pentagon of hypersonic 'missile gap' with Russia, China

A series of launches have been already carried out within the US$54m project, including tests conducted in Hawaii and Norway in 2012, according to The Drive.

The latest test came amid criticisms voiced by some members of the US Congress over the lack of response by the Pentagon to the alleged development of the hypersonic capabilities by Moscow and Beijing, The Drive noted.


Read more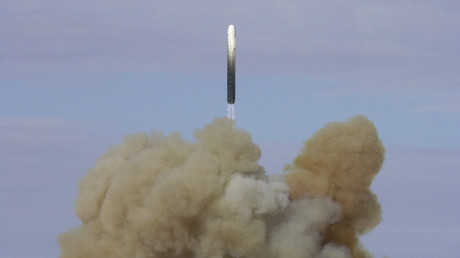 In May, US Navy Admiral Harry Harris, head of the US Pacific Command, said at a Congress hearing that Washington will have to counter a potential threat to the US associated with this trend.
"What we can do is to develop our own hypersonic weapons and improve our defenses against theirs," he said, as cited by the The Drive.
In a congratulatory statement from July 10, Australia's Defense Minister Marise Payne called the launch "a success" that "takes us one step closer to the realization of hypersonic flight."
Payne specifically highlighted the role of the launch in raising the military potential of the Australian Defense Force, saying that having mastered the technology of hypersonic flight, Canberra would be better equipped to respond to "future threats."
The range in Woomera, a remote town in South Australia's Far North region, housing the Australian Defense Force base and Woomera Test Range, was chosen because of its "vast area and ability to support continuous telemetry collection during the flight," Payne said.
Saying the July launch would mark the end of the tests performed as part of the HiFiRE series, Payne said Australia aims to maintain its position "at the leading edge of hypersonic research" and looks forward to arranging further hypersonic flight experiments in cooperation with the US.
While the designed speed of the hypersonic missile of Mach 8 (8000 km/hr) nears that of a typical intercontinental ballistic missile (ICBM), the hypersonic glider's advantage lies in its enhanced maneuverability.