Van mows down pedestrians near London mosque, police dealing with 'major incident'

TrendsLondon Finsbury Park attack
LATEST: Follow RT's LIVE UPDATES
London's Metropolitan Police said in a statement that "there are a number of casualties being worked on at the scene" of the apparent attack, which took place at Seven Sisters Road.
A white van ploughed into people outside the Muslim Welfare House, close to the Finsbury Park Mosque. The suspected attacker has been described as a white male, and is seen being arrested in an eyewitness video. Police did not immediately disclose his identity, only revealing that he is 48 years old.
A witness of the attack told Ruptly's producer Jon Scammell that many of the people were "crushed … while they were having their coffee." It coincided with the time of the night when Muslims are breaking their fast during the holy month of Ramadan.
Reports from scene - van intentionally drove into Muslims who were having coffee outside the #FinsburyPark Mosque pic.twitter.com/CV1ueBzbhQ

— Jon Scammell (@JonScammell) June 19, 2017
We send our thoughts & prayers to the victims & those injured at the major incident. The Muslim Community is horrified & shocked

— Muslim Welfare House (@Mwh_London) June 19, 2017
Videos showing the aftermath of the incident emerged on social media, in which several people could be seen lying motionless on the ground.
Thoughts & prayers with all those affected by the horrific terrorist attack on innocent people in #FinsburyPark. https://t.co/mbBCS9Gaadpic.twitter.com/Fvhl3DOAV4

— Sadiq Khan (@SadiqKhan) June 19, 2017
Twitter user Didier, who says he was at the scene at the time the incident unfolded, posted a video showing the arrest of a suspected attacker by police. Didier wrote that he saw at least seven people injured as a result of the attack, including three of them seriously.
Before the police arrived at the scene, bystanders reportedly apprehended the alleged attacker and pinned him to the ground.
Police are on the scene and are dealing with a major incident in Seven Sisters Road https://t.co/eYPjbVvlZGpic.twitter.com/BzVdQUNfw8

— Metropolitan Police (@metpoliceuk) June 19, 2017
A van has literally ran over Muslims on their way back from prayer in #FinsburyPark. What is happening to London.

— 🥀- غوشيا (@yeldazahra) June 19, 2017
Some eyewitnesses report that the driver veered off the road into the crowd on purpose. The van "slowly and intentionally accelerated into a crowded cafe outside a mosque," LBC cited an eyewitness as saying.
Police have, however, denied unconfirmed reports cited by the Evening Standard that a man wielding a knife came out of the van after it mounted the pavement and stabbed at least one person.
Armed police arrived at the scene and inspected the van used in the attack. The scene has been cordoned off.
BREAKING: We have been informed that a van has run over worshippers as they left #FinsburyPark Mosque. Our prayers are with the victims. https://t.co/FSE5m3bFpo

— MCB (@MuslimCouncil) June 19, 2017
Armed police on the scene #FinsburyParkpic.twitter.com/LeRd6NAE2k

— Ali Habib (@Habibiline) June 19, 2017
Photos of #FinsburyPark mosque. Reports that a van drove into a crowd of people.. pic.twitter.com/HUy50avQCv

— Pamela Moore (@Pamela_Moore13) June 19, 2017
Mohammed Kozbar, the chairman of Finsbury Park mosque, located 300 meters from the cite of the attack, told RT he believes it was deliberate and should be treated as a terrorist attack.
READ MORE: 'Call it as it is: a terrorist attack' – London Finsbury Park mosque's chairman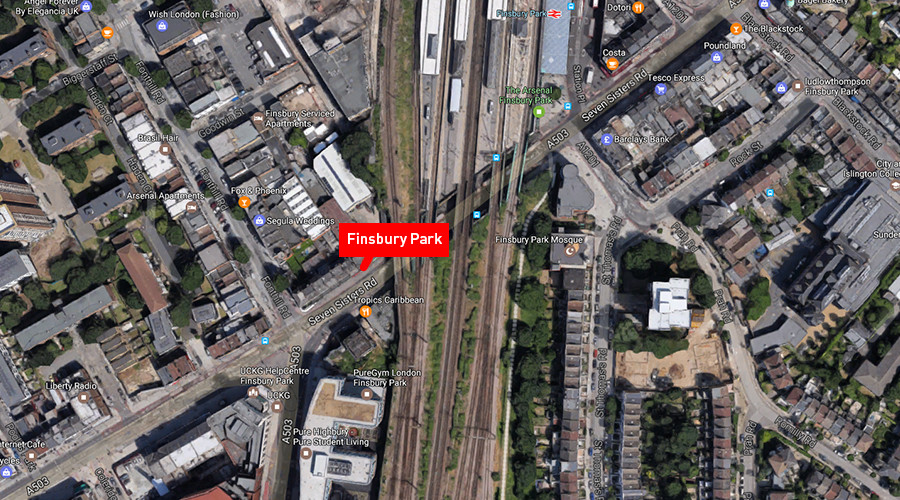 © Google maps

"We have to condemn this incident regardless who is behind it and call it as it is – it is a terrorist attack on innocent people," Kozbar said, comparing it to the recent terrorist attacks in Manchester, Westminster and London Bridge.

He argued that while the attackers implicated in these attacks might harbour different kind of extremist views, they share one common aim which is to "divide our community, to spread hatred, division and racism among our community."



Many police on the scene had to come straight from #GrenfellTower to #FinsburyParkpic.twitter.com/RyPs0fHy0p

— Jon Scammell (@JonScammell) June 19, 2017
Agitated bystanders approached police cordons, demanding that they disclose the known details and identity of the attacker, RT's Ruptly agency's live video feed showed. Officers replied that they "won't release names," and continued to call it a "serious, major incident."
The London Fire Brigade reported that they are assisting the police and ambulance services in dealing with the incident.
What the heck is going around?.. 제발 죄없는 희생자들 없길..🙏🏻 - #London #finsburypark #londonterror #londonterrorattack #prayforlondon #런던테러 #finsburyparkterror
Armed police inspecting the scums vehicle almost an hour after his disgusting and inhuman act against innocent civilians. #FinsburyParkpic.twitter.com/9H0c0xWDfS

— Didier (@Known_As_H) June 19, 2017
Labour Party leader Jeremy Corbyn tweeted he was "totally shocked at the incident at Finsbury Park tonight," adding that his thoughts were "with those in the community affected by this awful event." Corbyn has been the MP for the Islington North constituency, which includes Finsbury Park Mosque, since 1983.

I'm totally shocked at the incident at Finsbury Park tonight. pic.twitter.com/1ffKijNs73

— Jeremy Corbyn (@jeremycorbyn) June 19, 2017
Corbyn attended the mosque on Wednesday, June 14, for an annual Iftar ceremony with other local community leaders, including Christian and Jewish religious leaders, peace campaigners and a representative of the Metropolitan police.
A similar statement by Prime Minister Theresa May also called the attack "a terrible incident."

"All my thoughts are with those who have been injured, their loved ones, and the emergency services on the scene," May said.