Moscow & Syrian opposition in secret talks to stop Aleppo fighting – FT

TrendsRussian anti-terror op in Syria, Syria unrest

The talks are taking place in Ankara, brokered by Turkey, and Washington is not participating in the negotiations, the sources told the international daily.

"The Russians and Turks are talking without the US now. It [Washington] is completely shut out of these talks, and doesn't even know what's going on in Ankara," one of the Syrian opposition representatives told FT.

READ MORE: Civilians fleeing eastern Aleppo receive Russian humanitarian aid

It is not the first time that the Syrian opposition has met with the Russian side, but it is unprecedented that so many rebel groups would participate in the negotiations, the sources added. The Financial Times dubbed it "a sign of where they think they will have to turn to reach a deal."

None of the sources gave details as to whether the opposition met with Russian officials directly, or with Turkish officials mediating.

"Talks appear to have made little progress, but the fact they are taking place — without US involvement — underlines the shifting political dynamics in the Middle East," the FT writes.

On Thursday, Russian Foreign Minister Sergey Lavrov said that Russia and Turkey are constantly in touch with various groups in Syria.

"We've never avoided contacts with any political groups or field commanders," Lavrov said at a press conference in Turkey, as cited by several news agencies.

"Since our Turkish colleagues have contacts among both of them, we naturally exchange information on the moods in this area and motivate them to become part of the solution… Understandably, we cannot share details of this work but it's being done professionally. And it continues."

Lavrov noted that Russia called to set up contacts with armed Syrian opposition groups during the Lausanne talks a month ago.


Read more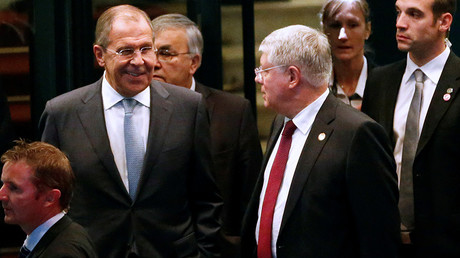 The Financial Times also addressed the spokesperson of the Russian Foreign Ministry, Maria Zakharova, for comment, and she said, "Washington isolated itself. We've been negotiating with the [Syrian] opposition in Turkey for years — it's not news."
Turkish officials refused to comment on the report.
It comes a few days after Russian Deputy Foreign Minister Mikhail Bogdanov said that Moscow hopes to resolve the situation in Aleppo by the end of the year.
This week has brought a major breakthrough for the Russia-backed Syrian forces in Aleppo, with Moscow saying half of the territory previously held by the militants in the city's eastern part was de facto liberated.
Over 3,000 people, half of them children, managed to leave eastern Aleppo through 'humanitarian corridors' established by Syrian government forces, the Russian Reconciliation Center said on Monday. The operation also allowed humanitarian relief to be brought to tens of thousands of civilians on the ground.
On top of that, over 500 militants surrendered to the Syrian Army, as it is making advances and recapturing more city districts in eastern Aleppo.