Mosul civilians running low on water & food as ISIS stages public executions – UN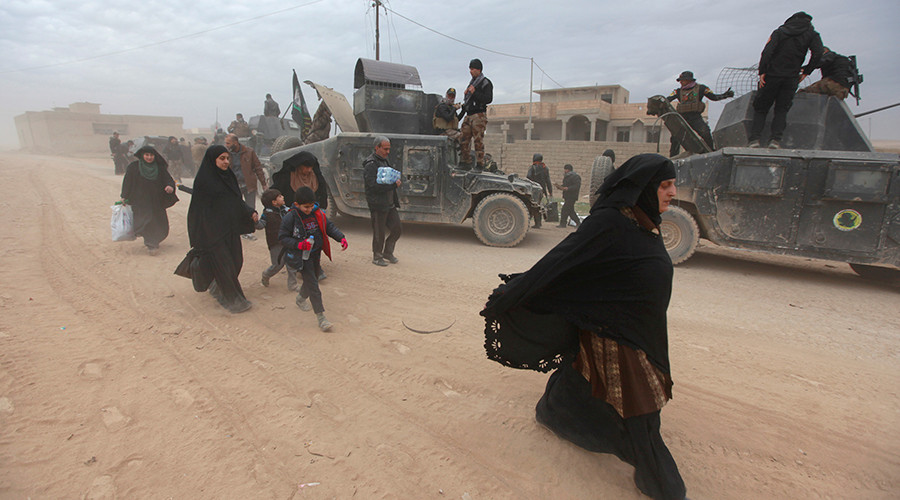 "The situation in eastern Mosul city close to the front lines remains fraught with danger for civilians. Mortar and gunfire continue to claim lives. The limited supplies of food and water are running out, amid concerning reports of food insecurity emerging from the city," the UN humanitarian coordinator's office said on Wednesday.


Read more
As many as 650,000 people, or some 40 percent of the city's population, had their water supplies cut when a pipeline was destroyed in the fighting, an Iraqi official told Reuters. Food has been running low as well.

A major offensive led by the Iraqi army has been in progress for six weeks, aiming to drive Islamic State (IS, ISIS/ISIL) militants out of the city's eastern districts.

Meanwhile, IS is reportedly using brutal public executions to deter desperate civilians from fleeing the warzone.

"We continue to receive reports of serious breaches of international human rights and international humanitarian law by ISIL in and around Mosul," Ravina Shamdasani, the spokesperson for the UN High Commissioner for Human Rights, said during a press briefing in Geneva on Wednesday.

IS militants publically executed 27 civilians in Mosul's Muhandiseen Park last week, Deputy UN High Commissioner for Human Rights Kate Gilmore said. Residents are reportedly being executed if they are suspected of collaborating with the Iraqi army.

Civilians that don't give terrorists permission to install rocket launchers or place snipers on the rooftops of their houses are either "threatened or killed," Shamdasani said.


Read more
"On 11 November, ISIL reportedly shot and killed 12 civilians in Bakir neighbourhood in eastern Mosul city for allegedly refusing to allow ISIL to install and launch rockets from the rooftops of their houses," the spokesperson said.

There have also been reports that the terrorists have abducted hundreds of people suspected of leaking information to Iraqi Security Forces and moved them to another location. Their fate remains unknown, according to the spokesperson.

"There have also been reports of ISIL shooting at fleeing civilians, including one report from 22 November of an ISIL sniper killing a seven-year-old child who was running towards the ISF in Adan neighborhood in eastern Mosul," Shamdasani said.

The assault on Mosul, which began on October 17 with the support of the US-led international military coalition, is seen as one of the key steps in defeating Islamic State.

Some 100,000 Iraqi government troops, Kurdish fighters, and Shiite militiamen are taking part in the operation. Mosul is surrounded from the north, east, and south by Iraqi and Kurdish troops, while the western side is covered by Popular Mobilization forces.

There are an estimated 5,000-6,000 insurgents in Mosul.

Despite the alarming picture and seemingly slow progress of the Mosul operation in Iraq, the Western media has remained largely focused on Syria, where Russian-backed Syrian government forces are also battling terrorists to retake control of neighborhoods in the eastern part Aleppo. That initiative has been widely criticized in the West, with the Syrian government and Russia being blamed for allegedly destroying civilian infrastructure and killing civilians. Meanwhile, the atrocities reportedly being carried out by the terrorists in eastern Aleppo, including Al-Qaeda affiliate Al-Nusra Front and their rebel allies, who, like IS in Mosul, are also preventing thousands of local residents from leaving with machine gun fire and public executions, have largely gone unnoticed and unreported by Western governments and press.

READ MORE: At least 17 killed, dozens injured in E. Aleppo as rebels disperse protesters with machine gun fire


Read more
On Tuesday, Russia's envoy to the UN, Vitaly Churkin, said that France's call for an emergency UN Security Council (UNSC) meeting on Aleppo is an attempt to distract attention from the situation in Mosul.
France is trying to "distract attention from what is going on in Mosul where the situation – in many respects, including humanitarian – is much more dramatic than in eastern Aleppo," Churkin told reporters.
Last week, Peter Maurer, president of the Red Cross, told RT that in today's conflicts, civilians have become the "foremost victims" and "it is more secure to be soldier than civilian."
Up to 127 civilians were killed in airstrikes and by "friendly fire" from the US-led coalition in mid-November, the UK-based NGO Airwars said.
In some of Mosul's eastern districts, where residents are being killed in attacks carried out by both sides, locals reportedly see coalition warplanes and Iraqi Army artillery as more dangerous than jihadist atrocities, according to the International Business Times.