Punjab PA passes resolution, all praise for Nawaz amid clamour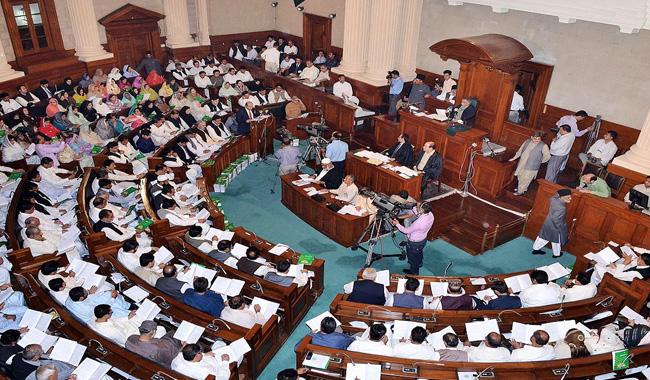 LAHORE: The Punjab Assembly passed a resolution paying tribute to Nawaz Sharif for his services for Pakistan, expressing absolute confidence in his leadership and pledging to crush all conspiracies hatched against him at the legal and political fronts.
The resolution was presented by Minister for Human Rights Khalil Tahir Sindhu. It was the first of such resolutions to be presented in the national or a provincial assembly after the disqualification of the former prime minister.
The resolution lauded Nawaz as a leader who made Pakistan the only atomic power of the Muslim world, who gave Pakistan CPEC and ended terrorism and solved the energy crisis.The resolution vowed to bury the politics of conspiracies and backdoor channels to power corridors forever. Terming the actions of those who conspired against Nawaz a threat to the national security and progress, the resolution called to identify them as the enemies of the state. The resolution concluded that continuation of democracy in letter and spirit was the only guarantee to sovereignty and progress of the country.
As soon as Khalil Tahir Sindhu started narrating the resolution, PTI MPA Arif Abbasi started chanting slogans against Nawaz Sharif. Arif Abbasi, addressing the Speaker, said that the House could not pay tribute to a person ousted by the apex court of the country. The opposition benches joined the PTI MPA and started slogans and hooting.
Arif Abbasi also objected to the resolution, saying that it mentioned Nawaz as the party leader. However, the text of the resolution did not mention Nawaz Sharif as the party leader but a national leader.
The hooting, name-calling and slogan-chanting from the opposition benches soon incited the same from the treasury benches. The PML-N women parliamentarians started chanting slogans against Imran Khan. This went on for around 15-20 minutes and it was virtually impossible to hear the Speaker and the resolution was passed in the House amidst the clamour.
Arif Abbasi continued chanting slogans even as the members exited the assembly. A group of PML-N MPAs led by the chief whip of the government Rana Arshad came face to face with Arif Abbasi and started chanting "Prime Minister Nawaz Sharif" and "Nawaz Sharif Zindabad." At one point, it seemed things were going to get out of control and a brawl might break out, however, both sides observed restraint and did not take things to that level.