Ehtesab court summons Sharif family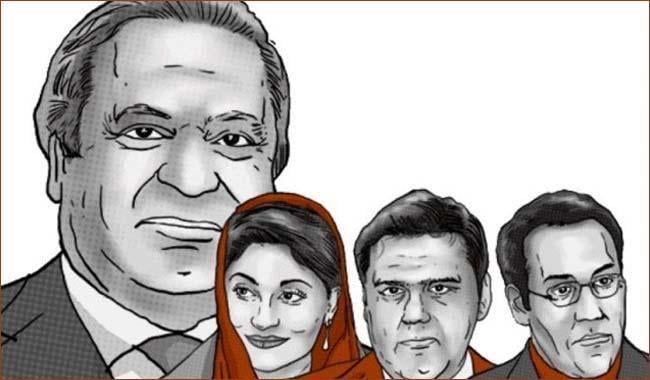 ISLAMABAD: An accountability (Ehtesab) court (AC) on Wednesday formally started the trial of the Sharif family while issuing summons for former prime minister Nawaz Sharif, and his sons Hussain and Hassan Nawaz, directing them to appear before it on September 19 in the Flagship Investments corruption reference.
In another development, the National Accountability Bureau (NAB) resubmitted Azizia Steel Mills, Hill Metal Establishment and Avenfield London apartments references before the court after correcting technical mistakes. NAB will resubmit the corruption reference against Finance Minister Ishaq Dar on Thursday. Earlier, the AC registrar had returned all the four references to NAB directing the anti-graft body to resubmit after correcting technical mistakes.
NAB's Deputy Prosecutor General Sardar Muzaffar Abbassi appeared before the court as AC judge Muhammad Bashir issued the summons. Security of the court was tightened and the number of policemen was increased outside courtroom.
On September 8, NAB had filed three corruption references against the Sharif family and one against Ishaq Dar for compiling assets beyond known sources of income, in compliance with the Supreme Court judgment dated July 28 before the AC of Islamabad.
References pertains to the Avenfield Properties, Azizia Steel Mills & Hill Metal Establishment and Flagships Investments filed against Nawaz Sharif, Hussain Nawaz, Hassan Nawaz, Maryam Nawaz and Captain (retd) M Safdar and one against Ishaq Dar. The reference against Dar reveals that NAB has yet to determine the role of the National Bank of Pakistan (NBP) president and others in connection with their alleged involvement in "aiding and abetting" the finance minister for 91 time increase in his assets within a short span.
Three references against the Sharif family include a reference regarding the Avenfield Properties in Park Lane, London, a reference against the establishment of Azizia Steel Company and Hill Metal in Jeddah while the third reference is about the establishment of Flagship Investments Ltd including Hartstone Properties Ltd, Que Holdings Ltd, Quint Eaton Place 2 Ltd, Quint Saloane Ltd, Quaint Ltd, Flagship Securities Ltd, Quint Gloucestor Place Ltd, Quint Paddington Ltd,Flagship Developments Ltd, Alanna Services Ltd, Lankin SA (BVI), Chadron Inc, Ansbacher Inc, Coomber Inc and Capital FZE (Dubai).
As per the references, the joint investigation team (JIT) formed at the orders of SC had requested for mutual legal assistance from a foreign country whose response is still awaited. References say it will be placed before this court, when received from foreign jurisdiction. So under this scenario, these references may be treated as interim.
These references have been filed under Section 18(g) of NAO 1999. As per references, the Supreme Court directed  NAB to prepare and file references against the accused persons based on the material collected and referred to by the JIT in its report. Therefore, cognizance was taken and an investigation authorised on August 2, 2017 in this matter. According to JIT's final investigation report and proceedings at NAB, it is established that the accused persons failed to justify sources of funds for establishment/possession of their assets and consequently pecuniary proceeds disburse among each other. The accused persons were given ample opportunities to explain and provide evidence regarding the accumulation of these assets, it said.
The accused persons did not join investigation by NAB on the pretext of a review petition already filed before Supreme Court against July 28 verdict. That according to investigation proceedings, and its findings so far, it is established that accused persons in connivance with each other have committed the offence of corruption and corrupt practices as defined under section 9(a)(v) and (xii) of National Accountability Ordinance (NAO) 1999 punishable under section 10 of NAO and schedule thereto, said the report. References were filed after approval by NAB chairman on September 7 in an executive board meeting.