Trump-Nawaz phone call attracts world media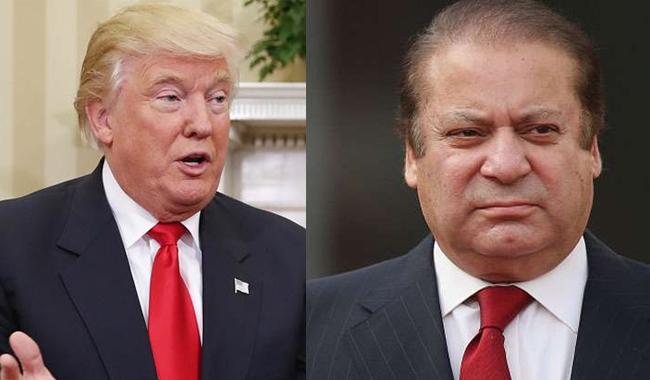 WASHINGTON: The phone call between Prime Minister Nawaz Sharif and US President-elect Donald Trump attracted a lot of attraction in the US and global media, which took the story with a pinch of salt.
Major US media outlets like CNN and the Washington Post termed the release of readout by Pakistani officials as unusual and "a violation of diplomatic protocol" while some other papers carried sarcastic remarks with the story.
CNN also carried a statement by Trump's office which said the two sides had a productive conversation about how the United States and Pakistan would have a strong working relationship in future.
"It's a case between two of the world's most powerful men," CNN.com reported adding: "Pakistan Prime Minister's Office put out a statement directly quoting Trump -- a violation of diplomatic protocol -- in which he glowingly praised Sharif."
Readouts of phone calls between world leaders are usually summarised in order to protect leaders from incidental backlash.
"A president wouldn't gush over a foreign leader the way that Donald Trump did. He wouldn't volunteer to do all these things," said CNN political analyst David Gergen, who has served as an adviser to four presidents.
"Our relationship with Pakistan is one of the most sensitive and difficult relationships in the world. It's an extremely important relationship."
The Washington Post reproduced the entire readout calling it unusual. "The readout is unusual in that it focuses almost entirely on Trump's contributions to the conversation, and reproduces them in a voice that is unmistakably his," the paper said.
The paper quoted previous tweets of Trump which were critical of Pakistan to express surprise over his recent statement. "Lavishing praise on the Pakistanis would be a major turnaround for the president-elect. In 2012, Trump took to his favourite social media platform, Twitter, to denounce Pakistan," the paper said. 
It also mentioned president-elect's speech before election before a Hindu gathering in which Trump showered praise on India, Pakistan's arch-rival. "Donald Trump Had the Trumpiest Phone Call With Pakistan's Prime Minister" screamed a headline on the Time website.
"The penchant for hyperbole that Trump often exhibited in off-the-cuff campaign speeches came through in the phone call, during which Sharif congratulated him on his election victory and invited him to visit Pakistan," Time reported. 
US news website Vox also expressed surprise over the statement.
"It's hard to imagine some Pakistani bureaucrat making up Trumpy lines like 'Pakistanis are one of the most intelligent people' — which, come to think of it, begs the question of who the least intelligent people are. Also, it's worth noting that these 'most intelligent people' would be blocked from entering the United States under Trump's 'Muslim ban.'" It wrote.
The American media is against Donald Trump and is keeping a watchful eye on him. Every statement of the US president elect is being scrutinised by the media. However, no official statement was issued by either side to clarify the media coverage.