Bilawal is the ?Haji son of corrupt parents: Abid Sher Ali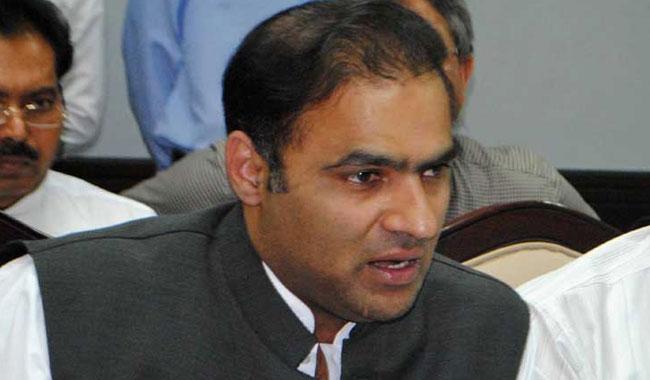 Asks him to bring his father back before pointing finger
LAHORE: State Minister for Water and Power Abid Sher Ali has said PPP Chairman Bilawal Bhutto's parents were corrupt and on the other hand he had become a 'Haji'. He should first make himself accountable about his aunties.
The minister, while talking to the media on Wednesday, asked Bilawal to bring his father back to the country before pointing fingers at others. Abid said the name of Benazir Bhutto also appeared in the Panama Papers.
The firebrand PML-N leader from Faisalabad also took an names and insulting senior politicians and himself and went on to call the young Bhutto 'auntie Zarina'.
Reacting to Abid Sher Ali's rant, senior PPP leader Maula Bux Chandio asked the prime minister to take notice of the minister's remarks.   
The minister said coffin and shroud both were ready for Sh Rashid and no one will even shoulder his 'political funeral procession'. He said Sh Rashid would have to search for men in Bhabra Bazaar for shouldering his 'political funeral'.
"We are clean-handed in Panama case. Panama case is on merit. PTI position is likened to proverb 'mountain was dug but rat was found'. PTI says they have evidence. In courts evidence speaks and not books and clippings".
According to another report, PML-N leader Talal Chaudhry said the petition filed by PTI leader in the Supreme Court seeking prime minister's disqualification would meet the same fate like that he met in the electoral rigging case before the judicial commission.
Talking to media, he said PTI chief Imran Khan had been striving hard for months to derail democracy on the basis of Panama Papers but he was unable to prove his allegations against the prime minister and his family in the Supreme Court.
On the other hand, PML-N leader Daniyal Aziz said defeat of PTI chief Imran Khan in the Panama Papers case was imminent and he should accept it. Imran was in the habit of levelling baseless allegations which could not be proved as evident from his past record; he said this Wednesday while talking to media.
He said PTI's lawyer Naeem Bukhari was unable to prove allegations levelled by Imran against the prime minister and his family in the Panama Papers case in the apex court. He said the situation would be the same on next date of hearing on December 8 as the lawyers would again fail to provide any evidence to prove allegations against the premier and his family