Trump says ready to play role in resolution of issues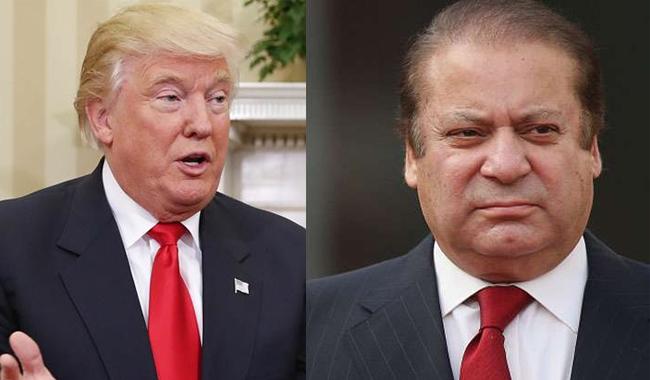 PM makes telephonic contact with US president-elect; facilitates him on victory in elections
'Pakistan an amazing country with tremendous opportunities; Pakistanis are intelligent people; would love to visit Pakistan'
ISLAMABAD: The US President-elect, Donald Trump, in his maiden contact with Prime Minister Nawaz Sharif through a phone call on Wednesday showed exceptional warmth and showered praises generously on Prime Minister Nawaz Sharif, Pakistan and its people and said he was ready to extend help in resolution of outstanding issues.
He has informally accepted the invitation of visiting Pakistan. According to the Prime Minister's House, Nawaz Sharif made a phone call to Donald Trump in the evening when it was early part of the day in Washington and felicitated him on his victory in the polls held earlier in the month. Trump, who was candid in the course of discussion with the prime minister, said to him, "Prime Minister Nawaz Sharif, you have a very good reputation. You are a terrific guy. You are doing amazing work which is visible in every way. I am looking forward to see you soon. As I am talking to you prime minister, I feel I am talking to a person, I have known for long."
The US president-elect, who will assume the office next month, reminded Prime Minister Nawaz Sharif, "Your country is amazing with tremendous opportunities. Pakistanis are one of the most intelligent people. I am ready and willing to play any role that you want me to play to address and find solutions to the outstanding problems. It will be an honour and I will personally do it."
Donald Trump asked the prime minister to feel free to call him any time even before 20th January that is before he assumes his office.
On being invited to visit Pakistan by Nawaz Sharif, Trump said that he would love to come to a fantastic country, fantastic place of fantastic people. "Please convey to the Pakistani people that they are amazing and all Pakistanis I have known are exceptional people," Trump told Nawaz Sharif.