PDP can't derail our style of politics in Kwara – Governor Ahmed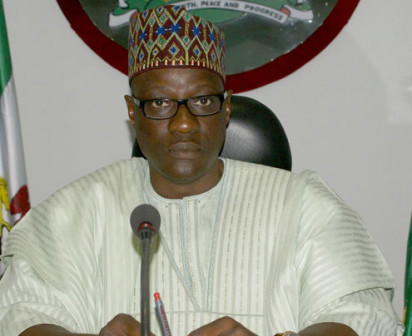 Governor Abdulfatah Ahmed of Kwara State in this interview reviews his administration's performance in the last seven years and ventilates his opinion on striking national issues. Excerpts
WHAT are the things you feel you could have done better in the last seven years as governor?
Largely, when you are coming into an office like this, you have very high expectations, high hopes of things you want to achieve. But don't forget that you are largely guided by a well- designed, methodically put together Medium Term Expenditure  Framework (MTEF) keyed into our budgeting systems.
And most importantly, we have looked at an aggregate of what the needs of our people are, and we've worked out the financial model to suit into these. As it is, I will say I am happy with some of the things we've been able to achieve. We have made impact in areas of health, water supply, roads and most importantly, we've impacted on the basic education level too.
As it is, we have been challenged financially. It is not unconnected with the fact that we are all heavily reliant on federal allocations. But I am happy to let you know that we have changed our revenue base and have since changed our funding window and improved the way and manner in which we are carrying out our expenditure in Kwara State.
As it is now, we don't have the luxury of time but the modest achievements we've had, have since keyed into our revenue base and our programmes are being carried on despite the paucity of funds that we are faced with in the country today.
How far have you gone in making Kwara State an agricultural hub of the nation?
Agric, as you know, is one area that has been supported by the Federal Government through various funding windows. As a state, we've taken advantage of all the platforms provided by the Federal Government.
You will recall that we pioneered commercial agriculture through an invitation to displaced farmers from Zimbabwe who came in to drive commercial agriculture here. As it is, we are happy that they have gone through their thick and thin and have settled down into three major consumptions largely: poultry, mixed cropping, and dairy.
It is understood that your state is one of those currently paying salaries. How were you able to do that?
The financial challenge started kicking in around 2013-2014, and this prompted our senses to look at other areas where funds can be assessed. The first thing we did was looking internally. We reviewed our revenue-generating platform.
We changed the people, we changed the process and we changed the technology to drive the process, and this saw the movement of our revenue from an annual accrual of N7 billion to about N17 billion. That automatically created some level of headroom to carry out our expenditure – both capital and recurrent, hence our ability to support salaries and also carry out capital projects as you see them going on right now.
To what extent have local entrepreneurs keyed into the activities of the Zimbabwean farmers and in what ways have their presence here impacted on the economy of the state?
The concept of Shonga, coming in at the high level of commercial farming would naturally see it requiring input from small-scale farmers, especially in input provision. That is provision of grains – maize and soya.  They are largely grown by farmers, who have keyed into an off-taker/demand- driven scheme.
The Shonga farmers are part of the off-takers, and their presence and demand for maize and soya alone has created an increase in growing of maize and soya along that axis and other areas of the state.  Don't forget that apart from the Shonga farms, we still have other big farms, there are still poultry farms, which are also off-takers for legumes and seeds.
This has made it easy for us to get our farmers under our funding window to grow maize and soya to be fed into these input-requiring platforms. I am happy to let you know that we have a large army of farmers who are not only supported with funding for inputs but with extension workers and I have seen some of them move from two to five tonnes per hectare.
This is still very modest, but it is an achievement which we hope to upscale as we move on because the poultry farms are growing in size and the value chain is huge. So, it has been truly beneficial as an off-taking platform for our crop farmers.
In spite of the gains that you listed, some people are still sceptical about the benefit of the coming of the Zimbabwean farmers..
As I said, they are pioneering commercial farming as we have not seen commercial farms here before.  What we had before now were subsistence farmers. Our people were not used to farms that are linked from the beginning to the end – farms that have value chain scheme.
For instance, poultry, starting from growing of grains to hatching of eggs by parent stock to produce eggs that would be taken to the hatcheries to produce the Day Old Chicks (DOCs) that are taken to farms, grown to table size, moved on to the slaughter slabs, slaughtered and made available for consumption. This is a whole value chain, and this is exactly what is happening in Shonga, and they have one of the best hatcheries in the West African sub-region.
People should see that when they start with maize, that they end up with processed chicken, so you need to see how the value chain comes in. What we have now is a farming system that has changed agriculture from being a social business to a proper business through which wealth could be created, and I am happy that it has changed the way agriculture is viewed in Kwara State.
What happened to the projects left by your predecessor?
All projects we met on assumption of office, especially capital projects, were taken to completion level. They were completed because our campaign promise was 'legacies continue' and it meant that we were going to complete those projects for the people to enjoy the benefits. We have since completed them, initiated new ones and completed some, while some are still ongoing.
Did you question some of the projects before you completed them?
I didn't question them because I was part of that government and I was among those who designed the Medium Term Expenditure Framework (MTEF) that supported those programmes. I was the Commissioner for Planning, so part of what I actually executed in my first term in office was designed when I was Commissioner for Finance and was keyed into the existing programmes. That was why we had a seamless transition.
Do you think governors should be monitored on how they use the Paris Club refunds?
The Paris Club money is a refund to the states which presupposes that their monies had been taken in the past and is being returned to them. For us, in the state, we had expectations of this money, and we keyed it into our budgeting system, and it has since supported the execution of the 2017 budget.
Why would you monitor people on how they execute their programmes It is their money. If I borrow money from you today and I pay you back, would I tell you how to spend the money I can only give my advice.
Like the President said, the governors should use the money to pay salaries and all that…
He was just being suggestive because those were the pressures brought across to him by governors in making the request for their refunds. So, he was also advising that 'since some of you said you need it to pay salaries, this is the money, just pay salaries so that they are happy,' but that does not mean that it is to compel governors.
What is your reaction to the call for the creation of cattle colonies?
I think we need to sit down and truly look at what is going to work for us as a country. We must first recognise that the cattle herders are Nigerians whose interests have not been truly looked into in the light of the services that they render to the national economy. We require a very responsive agricultural policy which must be holistically pursued and must carry everybody inclusively to ensure that nobody is left out.
I am sure that by the time we can sit down and look at the practices in other parts of the world, we would be able to domesticate something that would suit our interest and peculiarities. But one thing is clear, the way and manner we used to do it in the past is not going to work again because the space is getting smaller, the population is growing and we require optimal land use in such a way and manner that we will begin to get the right benefit. Most of our lands especially for agriculture, is not optimally utilised.
So much land but with very small output because we have not improved on the way and manner that we are going to create inputs and expect outputs; i.e. based on education, types of seeds, types of herbicides. All these things would need to be reviewed holistically so that we begin to see optimal land use to generate maximum wealth and also create space for cattle herders in such a way that they would see the benefit of improving over and above what they are doing today.
Everybody knows that the movement of cows from one location to the other is very tiresome and most importantly, does not give us the kind of benefit that we are supposed to get from the cattle. By the time they move from Point A to Point B, they are almost emaciated.
It requires that we create a more enabling environment in advocacy in terms of other benefits of not moving around. These are things that government must put in place; then we begin to create laws that would guide utilisation.
So let's look at it holistically, domesticate what is done in different parts of the world and begin to skew our people through advocacy that will make them see the new methods as attractive.
After your stint as governor, what is your next aspiration?
Sincerely, I am so overwhelmed with the current need to take my activities to finishing point. I see the challenges that we are faced with now; paucity of funds, high demands by people and also the need to carry all these projects to desired levels. It is so herculean that I require to see it taken to the next level and that will define my next movement to whatever I need to do in future.
I have several options that I am looking at, and it is all premised on my energy which I think I still have; I am available to do a lot of things, but the most critical point is to take our projects to completion level as encapsulated in our campaign promises and also to be able to overcome the financial challenges we are faced with.
Are you not worried that the APC may be losing ground in Kwara State after the PDP made inroads into some councils during the last LG elections in the state?
The local government election was a victory for APC. However, don't forget that it was a grassroots election and issues that define parties at that level are completely different from what defines parties at the state and national levels. More often than not, you will see that little differences, largely acrimonious ones, lead to people changing their decisions when it comes to such elections as council polls.
But as it is, we are not afraid, we are very comfortable. APC is the ruling party in the state and will continue to be. Yes, the PDP is making some noise here and there, but they are not the kind of noise that will give us sleepless nights because we have always run an inclusive process.
For those little skirmishes that you saw during the council election; they are not things that are new in the body polity of Kwara. We have always had one or two places, where people see things differently and we have always approached it through dialogue and inclusive programmes, and that is why we have always had the kind of victory that we had even in the past.
So, we will continue to the future to the extent that we run an inclusive process to meet the aspirations of the people. APC's loss of few councillorship positions to the PDP was due to acrimony between some individuals; it was not a state-wide thing that should create any reason for bother. The APC is still strong in Kwara State and will continue to be. God willing, this will take us to next victorious level.
Given the mutterings within the party, should party chieftains who defected from PDP to APC decide to return home to PDP, what you would do?
It is an unlikely scenario, but don't forget that because we run an inclusive system, the followership decides the direction they want us to go. If they insist that they want us to remain, we remain; if they want us to go, we go.
When we decided to leave the PDP for the APC; it was an inclusively designed position. Inputs were taken from the ward to state levels before we took the decision we took at that time, but I must tell you that as it is today, we are comfortable with where we are, and we have not seen any basis why we should leave the APC.
When you joined other governors to walk out of the PDP then, you hinged your action on the impunity in the party then. Given the case when one arm of government took the head of another arm of government to court over cases arising from rivalry, do you see the kind of impunity in the APC as you saw in the PDP?
You see, the way things are going; the system came up with a strong position of fighting corruption with the understanding that it would be transparently done. But we have seen that interest, other than pursuing corruption, has come to bear and has negatively impacted on the way and manner the fight against corruption is pursued.
Whether you like it or not, APC is still at infancy and in trying to strengthen itself to a formidable outfit that will take Nigeria to the next level, there is bound to be skirmishes here and there.
Yes, it was a practice that we never saw in the past because it was believed that whatever issue at that time should have been thoroughly looked into before going to a place like the Code of Conduct Tribunal (CCT) since there is a procedure that must be followed.
We have seen it and it has not only strengthened the leadership of the Senate but created a much more transparent platform from which the leadership of the upper legislative chamber should be looked at because it was exhaustively taken through the process and it brought out the picture that it was not as bad as people initially painted it to be.
What is responsible for the cordiality between you and your political benefactor, Senator Saraki Is it that he pocketed you as some people insinuate?
Governance is about service delivery and optimal utilisation of resources – human and material – to deliver preset targets to the people using the instrumentality of government and other institutions. This is what we  strove to do. When the Senate president was here as governor, I was part and parcel of his economic and planning teams.
I was also part of the team that formulated the programme that will see the development of Kwara from point A to B. So, it was only natural that it would be foolhardy when I came on board to say that I want to run the state without getting input from him or others, who have input to give because governance is about taking ideas from people.
You must listen to constructive criticisms and use that as a basis to change things if they are not the way they should be. So, we have been working based on plans, campaign promises and even from members of the opposition, who come up with constructive criticisms.
Kwara State is neither a private business nor Abdulfatah Nigeria Ltd, so we need to tap from his experience because he was once here and whoever comes in tomorrow must tap from my own experience because there is no substitute to experience.
How would you want to be remembered after you leave office as governor?
I want to be remembered as someone who came as governor of the state to modestly change the lives of the people using available resources by improving on infrastructure and economy of Kwara so that it can be a better place to live in.
The post PDP can't derail our style of politics in Kwara – Governor Ahmed appeared first on Vanguard News.