Operation Python Dance, another dimension of war against Ndigbo — MASSOB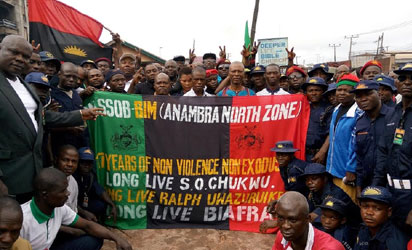 *It'll cripple S-East economy—Rights groups
*As Uwazuruike laments arrest, detention of members by Army
By Vincent Ujumadu, Chidi Nkwopara & Peter Okutu
ABAKALIKI— THE Movement for the Actualization of the Sovereign State of Biafra, MASSOB, yesterday, described the military's declaration of Operation Python Dance on Igbo soil as another dimension of war by the Buhari-led administration against Ndigbo.
According to the group, the action of the military also amounted to political declaration of state of emergency in South-East geopolitical zone.
In a statement issued in Abakaliki by the  National Director of Information of MASSOB, Comrade Samuel Edeson, the group alleged that the action of the military was intended to maim the people of Biafra and prevent them from returning home for the Christmas celebration.
The statement read in part: "The leadership of the Movement for the Actualization of the Sovereign State of Biafra, MASSOB, after our National Executive meeting today at MASSOB headquarters, Okwe, Onuimo Local Government Area, which also coincided with first anniversary of the new leadership of MASSOB under our amiable leader, Comrade Uchenna Madu condemned in totality the recent declaration by Nigerian Army of Operation Python Dance in Biafra land.
"The meeting which was presided over by our leader, Comrade Uchenna Madu at Okwe resolved as follows: "That Operation Python Dance is another dimension of prosecution of war by Buhari-led administration against Ndigbo. It also amounts to political declaration of state of emergency in South-East states.
"That Army headquarters, with their ulterior negative motives, started this annihilating operation on November 27, without any public enlightenment and orientation in order to maim the people of Biafra.
"That the primary target and reason of this operation is not against pro Biafra groups, as we have no public functions in this Christmas season. It is against the people of Biafra, mostly the Igbo during this Christmas period through intensive pressurized monetary extortion, harassment, mesmerization and secret/extra judicial killings of Ndigbo because of current Biafranization of Igboland and Ndigbo.
"That Christmas season is a period of Igbo gathering with much concentration in Igboland, so to the military, it's a fertile land and opportunity for creating fears/tensions among our people which they thought will derail the love, confidence and consciousness of Biafra.
"That this is an extension of Buhari-led administration's forceful islamisation of Igboland through military fears and religious intimidation. This operation is also designed to demoralize the people of Biafra from returning home for Christmas celebration."
Crippling S-East economy
Similarly, the South-East Coalition of Human Rights Organizations has called for the dismantling of the newly established Operation Python Dance by the Nigerian Army in the South -East, arguing that the exercise would cripple and strangulate the social and economic activities in the zone.
A statement issued by 10 groups under the coalition said that apart from scaring investors away, the exercise would also chase away traders coming to patronize South-East economy, cripple leisure, recreation and other cultural activities, as well as turn the South-East roads into extortionist money-making arena by way of what they described as structured or organized and open ended extortion.
Uwazuruike laments arrest, detention of members
Meantime, the leader of Biafra Independence Movement, BIM, Chief Ralph Uwazuruike, has decried the arrest and detention of six members of his group, who were on their way to Owerri, to attend the memorial celebration of Dim Chukwuemeka Odumegwu Ojukwu.
Uwazuruike, who spoke through his Director of Information, Mazi Chris Mocha, gave the names of those under arrest as Usulor Luke, Ngede Emeka, Agbem Chukwuma, Martin Ejiofor, Theophilus Ononiba and Anslem Madu.
Giving a graphic account of how the pro-Biafra activists ended up in detention, Uwazuruike said: "Our members boarded a chartered Mitsubishi L300 bus with registration number, Anambra HBE 184 YD, from Anambra West local government area of Anambra State, to attend the memorial day celebration of Dim Chukwuemeka Odumegwu Ojukwu in Owerri last weekend."
Uwazuruike said some soldiers, who were operating in a Toyota Hilux vehicle, marked NA 302, Team 62, drafted from 302 Artillery regiment, Onitsha, chased the vehicle on sighting it.
"The soldiers forced the Mitsubishi commuter bus to a halt at Amazu, along the Onitsha-Owerri road and arrested six of the occupants, while the others scampered into safety," Uwazuruike said.
While urging security agencies to form the habit of charging pro-Biafra loyalists to court of competent jurisdiction, instead of incarcerating them endlessly in their inhuman cells, Uwazuruike however recalled that Amnesty International recently accused the security agencies of extra judicial killing of 150 MASSOB/BIM loyalists.
"Keeping pro-Biafra loyalists in Army cells since last Saturday, without handing them over to the police is illegal, offensive, inappropriate and reprehensible", Uwazuruike said.
The post Operation Python Dance, another dimension of war against Ndigbo — MASSOB appeared first on Vanguard News.